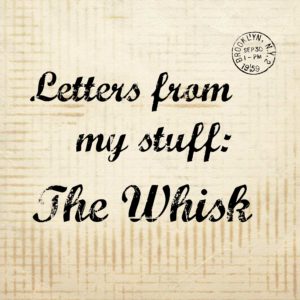 The other day my whisk wrote me a letter.
---
Dear Giant Chef Lady,
Please stop resting me in bowls. 
I am a whisk. 
I was made to 
twirl 
and spin 
and dance. 
Not to rest. 
When you put me in a bowl, my soul dies. 
I must to leap out. 
I must be free. 
I was meant for more than resting. 
Sincerely,
Your Whisk.
---
So I wrote my whisk back.
---
Dear Whisk,
I hate you. 
I thought you would know that by the sheer number of times I shout,"I HATE THIS WHISK!" while using you.
You are my whisk. You whisk when I say. You rest when I say.
You are not a gymnast.

The reason you flip out of bowls is because the idiot who made you gave you a metal handle fifteen times heavier than your whisky-wire parts. So when I rest you in the bowl, your stupidly heavy handle flips you out, flinging an arc of pancake batter across the entire kitchen.
And all over me.  
This is not ok. 

So I am replacing you.
If you're lucky, I will give you to my daughter and she will adore you and you will twirl and spin and dance while she pretends to make pancakes.
But know this, if you pull one more Mary Lou Retton move on me before I replace you, I will donate you to the thrift store where you will languish for years, rusting amongst the other utensils who disappointed their owners. 
Do not test me on this.
Hugs and Kisses,
Your Perfect-Sized Chef Lady
---
It was therapeutic. I hope my cumbersome cordless phone writes me next.
Any of your things ever complain to you? Or better yet, what do you want to tell that annoying thing you own?