Hi! Thank you so much for being willing to share my book!
Below you'll find an image, blurb and prices for A Keeper's Tale. Please let me know if you need a different resolution image or any other information.  Feel free to use whatever of this information is helpful to you.
A Keeper's Tale is a short epic fantasy novel (50k) that is a standalone spinoff of my main series, The Keeper Chronicles.
Thank you!
Image: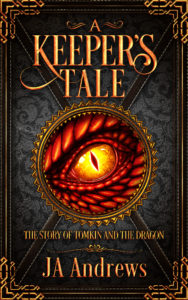 Tagline:
A dragon, a hapless hero, and a maiden who doesn't need rescuing.
Short Blurb:
A hapless hero and a maiden who doesn't need rescuing. It's hate at first sight.
But their biggest problem isn't each other.
The dragon is waiting.
Long Blurb:
Tomkin Thornhewn, youngest son of the Duke of Marshwell, has a problem: he's not heroic.
Regardless of his aspirations, the bookish, untrained young man is better suited to recording the deeds of heroes than being one himself.
Which becomes an obvious problem when he finds himself clinging to a ledge above a sleeping dragon. And instead of wielding his family's great sword with valor and skill, he drops it—onto the dragon.
The problem grows immeasurably worse when Tomkin himself falls off the ledge—also onto the dragon.
And his problem reaches its peak when Tomkin, after being captured, discovers a maiden locked in a tower. But this is no sweet damsel. Not only does she refuse to be rescued, she refuses to even admit she's in distress.
It's too bad for the people of Marshwell that Tomkin is the only thing standing – or falling – in the dragon's way.
JA Andrews introduced the world to the magic-wielding, world-saving, story-telling Keepers in A Threat of Shadows. Now you can enjoy one of the Keeper's most beloved tales: The Story of Tomkin and the Dragon, in this engaging, lighthearted novel.
Links:
Universal Amazon:  http://mybook.to/AKT
Nook: http://www.barnesandnoble.com/w/a-keepers-tale-ja-andrews/1125435790
iBooks: https://itunes.apple.com/us/book/id1192063865
Sale Dates:
A Keeper's Tale will be on sale for 99¢ (reg. $2.99) October 9-23.