Thank you so much for being willing to share my book!
Below you'll find an image, blurb and prices for Luminous: A Noblebright Box Set.
Please let me know if you need a different resolution image or any other information.
Feel free to use as much or as little of this information as is helpful to you.
Thank you!
Janice
PRICES:
Luminous will be priced at $2.99 from August 1-7th.
It will go up to its normal price of $3.99 on August 8th.
IMAGE: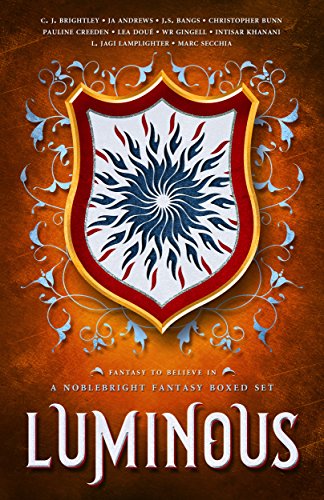 TAGLINE:
Fantasy to believe in.
BLURB:
Dare to step into lands of myths, magic, and monsters, because there is light to be found in even the darkest of places.
Now, ten fantasy authors have come together to offer this epic boxed set of noblebright fantasy! Don't miss this fantastic opportunity to explore ten unique worlds, fall in love with gallant heroes and heroines, and discover where light shines through the darkness.
Included books:
The Lord of Dreams by CJ Brightley
A Threat of Shadows by JA Andrews
Heir of Iron by J.S. Bangs
The Hawk and His Boy by Christopher Bunn
Chronicles of Steele: Raven: The Complete Story by Pauline Creeden
The Firethorn Crown by Lea Doué
Wolfskin by W.R. Gingell
Sunbolt by Intisar Khanani
Rachel and the Many-Splendored Dreamland by L. Jagi Lamplighter
The Pygmy Dragon by Marc Secchia
LINKS:
iBooks: https://itunes.apple.com/us/book/luminous-a-noblebright-fantasy-boxed-set/id1256909023?mt=11