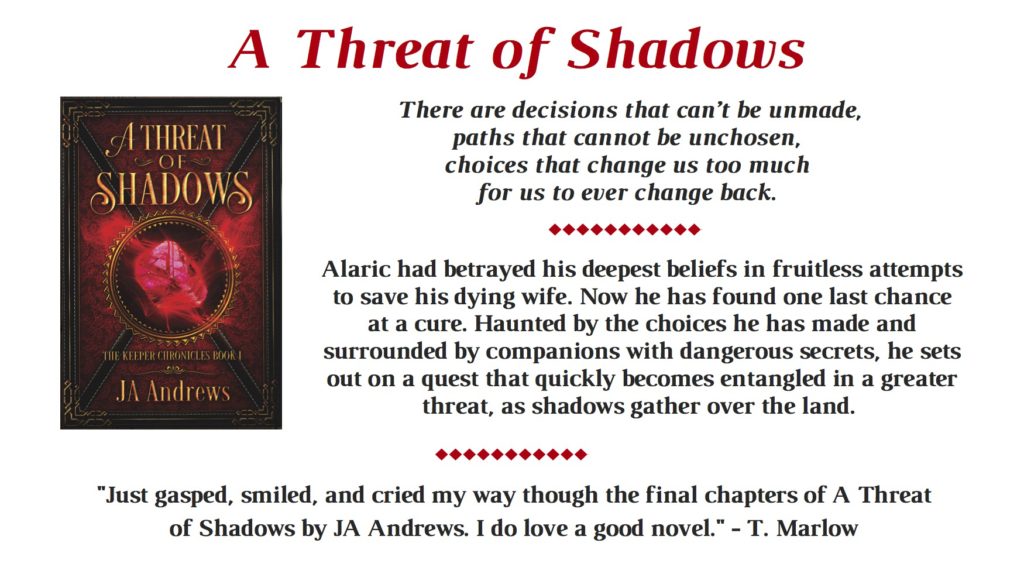 See More about A Threat of Shadows on Amazon:A Threat of Shadows
Free copy of  
A Threat of Shadows

(a fantasy novel)

Please note: This is a fantasy novel. If you don't enjoy fantasy, this is not a good book for you. Please do not take it just because it is free.

Reviews are an important part of book sales. If you are interested in leaving a review of A Threat of Shadows, it would be greatly appreciated. You may leave one on Amazon or Goodreads.

According to Amazon's policies, you will not be paid for this review. This is a free copy of my book, please add this to your review: I received a free copy of this book and voluntarily chose to review it.
A Threat of Shadows Description:
 There are decisions that can't be unmade,
paths that cannot be unchosen,
choices that change us too much for us to ever change back.
There was a time when Alaric was a Keeper, one of the men entrusted with counseling the queen, protecting the people's histories and ancient stories, and working magic in defense of the land.
But in a desperate attempt to save his dying wife, he has sacrificed it all— abandoning his duties, betraying his deepest beliefs and falling ever deeper into darkness.
So far, he has done nothing but fail, and his wife's time is growing short.
Now, haunted by his past, Alaric has found one last chance at a cure, hidden in a magical Wellstone buried a century ago. With the help of a handful of quirky companions, the stone—and the cure—are finally within his grasp.
But he's not the only one searching for the Wellstone.
His quest grows more perilous as he discovers that his companions are harboring dangerous secrets their own. It becomes almost impossible when he unearths rumors of a gathering shadow threatening the land—whispering of the return of a dark lord, thought to be defeated.
To face this enemy, and have any chance of saving his wife, Alaric needs to be the Keeper he used to be, not the broken man he has become.
Can he put the failures and pain of his past behind him to stand against the approaching threat? Or, in the face of all the growing shadows, will it be the darkness within himself that destroys everything?  
***
A Threat of Shadows is the first book in The Keeper Chronicles, a new classic fantasy series by JA Andrews.
In a land of magic, elves, and the occasional dragon, an engaging adventure unfolds about what it means to reconcile who you are, with who you thought you'd be. A story of sacrifice, friendship, and the weight of our pasts. If you enjoy epic fantasy with a likable cast of characters, you'll love this entertaining beginning to Andrews' new series.