It's almost New Years.
Last week I did a stellar job of bringing you a post filled with Christmas Goodness and Joy, so I thought I'd keep it up and address the obvious topic for this week.
New Year's Resolutions for 2016.
But there's one problem with this – I don't make New Years Resolutions.
It's not that I don't have plenty of things I want to change, or that I don't admire people who make resolutions and stick to them, I just don't end up making them myself.
All the boring psychological reason for this boil down to the fact that I know my resolutions are not going to be kept. And they're not going to be kept for one, all-important reason:
The actual practice of the resolutions is dependent on future-me.
Ugg. Future-me. That girl is useless.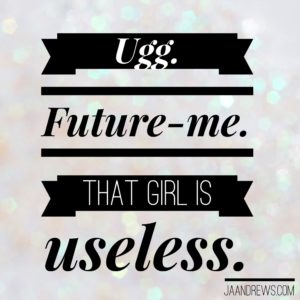 The problem with future-me is that by her very nature, she never actually does anything. She's always sitting there, in the future, waiting for present-me to catch up with her.
But she's like the proverbial carrot. I'm never going to reach her. Instead, she's going to sit there, nominally interested in (and vaguely disapproving of) present-me, like some sort of useless fairy godmother. She wants me to do well, but she's also living in the future, so she already knows that I didn't do all those great things present-me intended.
And the closer present-me gets to future-me, the more obvious it becomes that she doesn't want to do that resolution any more than present-me does.
So by the time present-me gets to the time when future-me just was, the echoes of her lack of enthusiasm are still there and they always convince present-me that I've been fine without the resolution this long. Why change now?
Besides, a resolution is really something for future-me to tackle.
There have been studies that show that when we think of our future selves, we think of them as strangers. The studies involve things like retirement savings and how it's hard to put aside money for some person we think of as a stranger.
I agree. But they keep talking about this in terms of far-future-me, the far-future-me that needs a retirement income. And they're right because she's a complete stranger. In fact I almost never think about her.*
The future-me I do think about is the near-future-me. I will unload the dishwasher in the morning (on a good day) specifically for the benefit of future-me so she won't have to work around a counter of dirty dishes come dinner time.
You want to know who really bugs me? Past-me. Because you wouldn't believe how often present-me has to cook dinner around a counter full of dirty dishes since past-me couldn't be bothered to empty the dishwasher. Any time. All day long.
"Past-me is so lazy," I say as I stack the dirty dishes further off to the side so future-me can deal with them.
So, in an effort to help future-me keep future resolutions (if present-me ever decides to make any) I've decided to make one resolution this year.  
I'm going to befriend both future-me and past-me. 
I think all of us will be happier if we can learn to work together.  If present-me can unload the dishwasher then future-me won't have to hate past-me and maybe she'll lose that vaguely disapproving air and look back sweetly from the future, prodding present-me on to good things. (And maybe future-me will share next weeks Lotto numbers.) And present-me won't waste time rolling my eyes at how useless past-me was in helping present-me move toward accomplishing what future-me needs to do.
The only flaw in this plan is, of course, that present-me will have to do all the work. Which sucks because resolutions are supposed to be part of future-me's domain.
I have no idea how to befriend these people. Can I email them? Do I focus on being nice to future-me? Or on limiting my distain for past-me?
Should I just go empty the dishwasher?
 

Let there be peace on earth, 
and let it begin with present-me.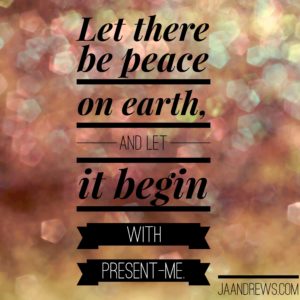 *I also just read that when we think of our future selves we think in terms of third person – we say "her" instead of "me".  Which just proves that reading this blog is like reading ground-breaking research.
---
Leave a comment: Are you kind to future-you? Is past-you a friend or an enemy? How do we work toward friendship with those people? (Also, are you good at emptying you dishwasher every morning?)