Happy September!
Maybe I should say, "Happy Just-Grabbing-on-to-the-Tail-End-of-September!"
It makes me feel like I should be sitting in a rocking chair knitting for all the times I say, "I have no idea where this month has gone!" (Note: if this is what my retirement is going to look like, it is NOT going to be exciting. First of all, rocking chairs put me to sleep, almost immediately. Secondly, if I could stay awake, I'm still the world's slowest, most irregular knitter, so there's absolutely no way a retirement could possibly be long enough for me to complete even a scarf.)
But, as usually, I have digressed. Today I'm talking about nothing at all Bookish. Instead, it's all about me.
Here are some things you may or may not know about me: I'm 42 and I homeschool my kids, so I'm used to teaching things all the time.
This fall, though, I've decided to finally learn something. I'm learning to play the cello. 
To anyone who has stopped by my house for the past…(mutters something that sounds like "three years")….this would be a surprising thing to hear. Because it was, in fact, three years ago when I got a cello. And wouldn't I have started learning it then?
Um, no.
I've always wanted to learn and my husband, knowing I'm not much in the "jump up and do it!" category, drove me to a music store (three years ago) and we picked out a gorgeous cello that we could rent for a few months to see how I like it.
In the first week I learned to play Twinkle, Twinkle, Little Star, and aside from the fact that it sounded a little like the twinkly stars were being strangled by vibrating strings, I was excited.
Let's fast forward to this summer, shall we?
(Picture montage here of seasons changing and children growing…all centered around a beautiful cello sitting perfectly still in the corner of the living room.)
In July, we received a nice little letter from the music shop congratulating us on the fact that we had made so many rental payments, we had bought the cello.
It's a bit embarrassing to realize you've made monthly payments on an instrument for so long that you've actually purchased the thing, and still, you can only play a version of Twinkle, Twinkle, Little Star that could never, possibly be used as a lullaby.
And I kept saying, "I want to learn!" But I just…somehow…never did. Instead I walked through my living room avoiding making eye contact with the instrument out of guilt.
So, when we moved to an actual city, full of things like music teachers, my husband called a cello teacher and set up an introduction. (Can we just take a moment to acknowledge that hidden in that sentence is the fact that my husband picked up the phone and called someone. Because he knows I'm not in the "jump up and do it!" category. That is love people. True love.)
Anyway, that incredibly long-winded and aside-filled intro is to say that I had my first cello lesson yesterday.
Guess what we worked on? Twinkle, Twinkle, Little Star. 
But this time I'm confident I can learn it.
It's humbling to remember that as a 42-year-old there are still so many things I don't know.
For instance, the way I think my body should be positioned to play a cello is wrong. In a lot of ways. And so I'm gently reminded (over and over) to lift my elbow off the cello, or straighten my wrist, or stop poking that pinky knuckle up too high.
I'm trying to be patient with myself and remember that Twinkle was not perfected in a day.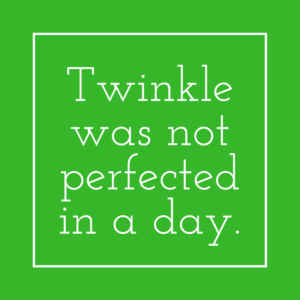 But as God is my witness, I will someday play it so beautifully that every baby within a block will immediately fall asleep.
And maybe every old woman knitting in a rocking chair.
Have you tried to learn something new as an adult? How did it go?
Please tell me I'm not the only one who wants to learn things, but puts them off forever.