Parenting is tricky.
One part of the trickiness is that kids are just weird.
Usually their weirdness ebbs and flows so that a strange mannerism will appear for a few weeks, then disappear and no one will remember. But how are you supposed to know which weird things will disappear and which are about to become life-long quirks that cripple your child socially? Some things are easy. Things like nose-picking should be nipped in the bud immediately. No question about it.
But what about other things? My kids have gone through tip-toe-everywhere phases that, if googled, sounded like they were in the process of destroying their gait forever. But it passed. My daughter was deathly afraid of bugs for a bit. Cripplingly afraid of them. Wouldn't go outside. Was REALLY upset when the bugs were also inside. But that passed. In fact today she is a great champion of bugs in all shapes and sizes.
But remember that one guy from the Harry Potter movies who keeps flicking his tongue out all the time? How were his parents to know that particular tick was going to stick? By the time you know, it's way too late.
For instance, my youngest has started howling. It's not non-stop howling, just the occasional single howl. Like the first howl in a horror movie when the dingy teenaged couple is walking through the graveyard at night. The one where everyone stops and the dimmest character says, "Was that a wolf?" right before he's eaten. Hollywood should contact my kid for that howl.
It's not a constant howl, thankfully, but it's fairly regular. As though he has some sort of howl gauge inside him and it builds up pressure until a howl comes out. From my observations it takes 15-30 minutes for the howl to percolate. Then, whether he's looking at a book, playing with legos, eating dinner, playing outside, etc….he howls. Once.
I will gladly admit this is weird. But how weird? That's the problem. Permanent weird or "remember that howling phase he went through?" weird? I have no idea. But he seems to enjoy it. So for now I'm ignoring it. Which is harder to do when he howls at the library. Or in public restrooms.
The other thing about parenting that makes it tricky is that most parental actions can be spun as either positive or negative. My internal critic can spin any action as negative, so when I realize that there is a positive side to something, I like to jump on that idea.
For instance, we went snowboarding again and it was all quite fun. But I'd like to say that when you are slipping and sliding your way up to the chair lift and doing a reasonable job avoiding bumping your equally unstable children beside you, IF you happen to slip on an icy patch, and IF you grab onto your children in an effort to stay up, almost knocking them over like fluffy winter-coat-covered dominoes, your inner critic (and the chair lift operator) will instant get all judgy and look at you like you might not be a great mom.
But, I'll have you know, that the grabbing wasn't done in a 'Better you than me, kid!" sort of way. I was in trouble and my mind told me that there were two helpful, wonderful human beings right next to me. No matter what the chair lift operator thought of the mother who yanked on her children to stop herself from falling, I like to think of it as the fact that I believe deeply that my children are reliable, and they are there to help me, just as I am there to help them.
So I'm choosing to spin this as good parenting.
It's harder to spin my snowboarding skills in a positive light, but I am getting better.
Really, a lot of life is tricky, but this is a rambling reminder that:
a) We can never be sure whether the things we do (say, howling) will end up making us weird or are just a fun past time. But there's a lot to be said for enjoying the moment. So I say, if you want to howl, howl.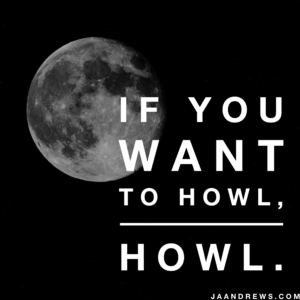 B) A lot of life is about how you spin it. Spin nicely.