The whole fam' went snowboarding last weekend.
Lest you think I'm hip and young, I'll reveal that turned 40 long enough ago that 41 is peeking over the horizon. And though I have snowboarded before, it was once, twenty years ago. (Seeing as I feel more like I'm 25 than 40, throwing out facts like, "I snowboarded once, twenty years ago," messes with my head.)
That one time I snowboarded (twenty years ago) what I mostly remember is how 'catching an edge' is a real thing. A painful, real thing. 'Catching an edge' is where the mountain fights back. Where it turns the nice, fluffy snow into an iron grasp that stops your snowboard dead in its tracks and flings your body to the ground. Hard.
So, this time around I was determined to not be flung quite so often. Because falling is scary.
Since all of us were beginners we hired an instructor and hit the bunny slope. You wouldn't believe how steep bunny slopes look when you have a smooth board attached to both feet.
But our fearless instructor taught us to raise our boards up the thickness of one pancake to create a gentle turn. Two pancakes and turning uphill helps you stop.  More pancakes than that makes you fall.
It was my goal for the day to end up better at snowboarding than my four-year-old.
And I'm proud to say I am.
I may not be for long, though, because the thing the four-year-old doesn't have is fear. The instructor would patiently direct him to zigzag down the hill at a snail's pace, but Chaos only wanted to kamikaze straight down. And Chaos is quite, um, let's say determined. Eventually the instructor resigned himself to teaching him that whenever he started going too fast, to sit down.
So that's what Chaos did. Stand up, hurtle down the slope barely clinging to control, (with me yelling, "Pancake! Pancake!" and him ignoring me) then he'd plop down on his tush, sliding dramatically to a stop amidst a spray of snow.
Honestly, I'm a little jealous. Children can fall with so little fear. All three of them just fell.
Boom.
Down on the snow.
No big deal.
When I fell it was surprising that I didn't crack the mountain on impact. And usually the fall was preceded by me yelling, "Too many pancakes! Too many pancakes!" There may have been some flailing.
I don't think onlookers would say, "That lady there? She falls with so little fear."
There's some sort of life lesson hidden in there, don't you think? Something about realizing when it's time to stop trying and just relax into the fall? Some wisdom about stopping sooner rather than later if you're speeding toward disaster? If life is careening out of control, sit down?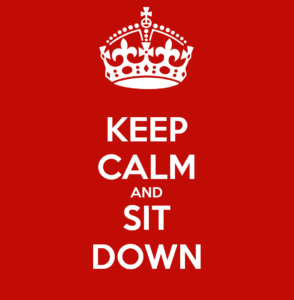 Or maybe the lesson is just that falls are easier when you're short.